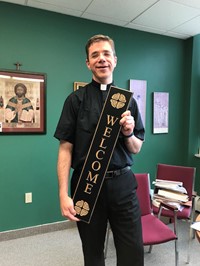 FIND A HOME HERE, WITH ST. RICHARD PARISH…
It is our hope that the parish community of St. Richard will not only feel
like home, but will be a home for you to pray, to grow, to find life. It is here
that we celebrate Christ's birth, life, ministry, suffering, death, resurrection,
ascension, and the outpouring of the Spirit. We call this the Paschal
Mystery. So that we may find in the mystery of our own lives, in our day to
day living and dying, great value and deep meaning – generous blessings
and abundant worth.
Come Home… Pray with us, Grow with us, Find life in Christ with us.
Join us…
in the living Gospel preached in relevant ways
in praying through our liturgical year that helps us enter into the life, death, and resurrection of Christ
in finding the Lord in our Sacramental life of initiation, healing, and vocation
in our ministry of faith formation for all ages and in various ways from our PSR program to adult events.